Newseum is the only institution in the world that combines a museum experience with education and public dialogue about media literacy and the First Amendment freedoms underpinning U.S. democracy. Newseum's education website serves educators, students, parents, and other visitors with the most unique and credible source of free learning content in support of this mission.
Why Echo&Co?
Newseum came to us because it wanted a partner who could lead it through a reinvention of its online education tools, with a funder requirement that it be built in WordPress. The education department—rebranded as NewseumED as a part of the project—needed a modern and robust tool that would give educators exclusive, free, high-quality content for teaching First Amendment freedoms. The tool had to provide intuitive workflows for producing and approving content, handle thousands of content assets with rich search capabilities, and provide teachers with a sense of ease and simplicity in application of the tool in their classroom settings.
Our Approach:
Content Strategy & Definition 
Product Definition 
User Experience Definition
Responsive User Interface & Interaction Design 
WordPress Development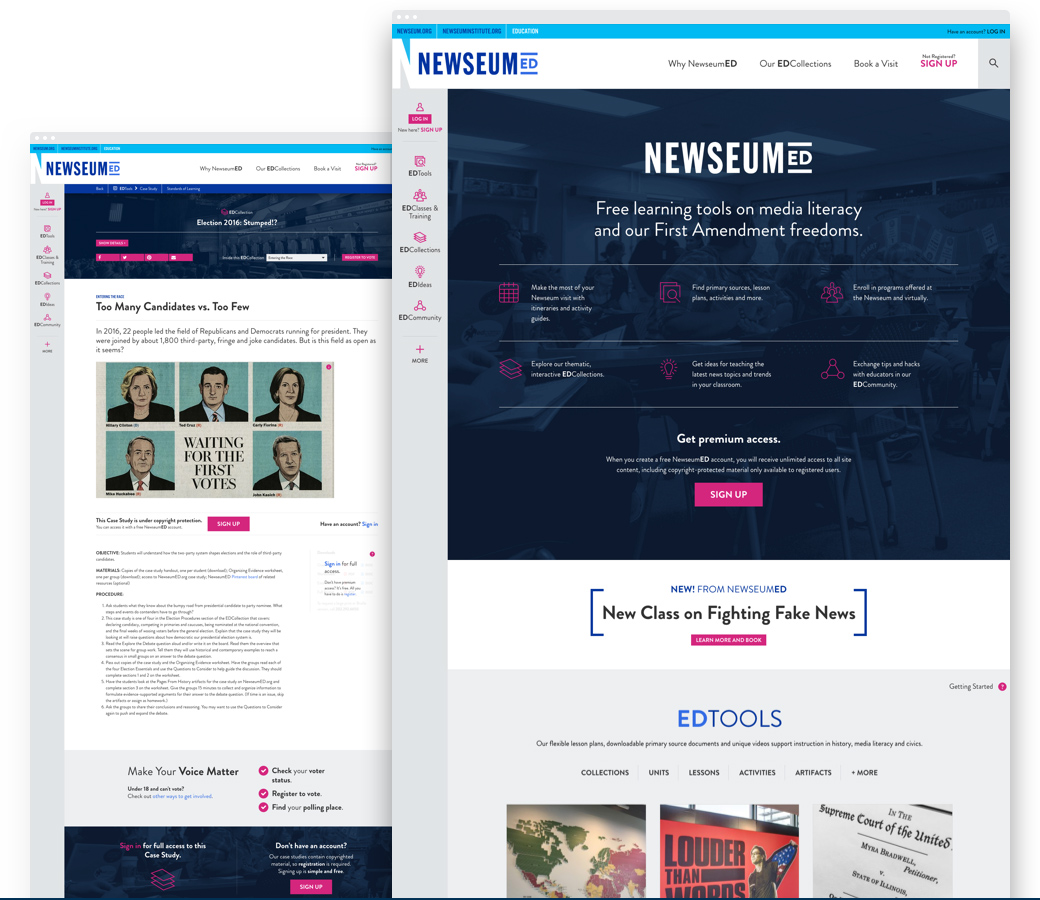 Upgrading an aging platform
The legacy "digital classroom" was built within a technology system that was unable to accommodate the increasing demands from the core audience—educators and students. We rebranded the "digital classroom" as NewseumED and launched a sophisticated, dynamic tool with a user experience tailored to increase conversions (site registration) and exceed the needs and expectations of end users with tailored content and features.
Making discovery easier
There were significant barriers for users in finding content, including limitations on searching, browsing, and navigating the huge collection of digital classroom resources. Our team created new navigational systems, including a new "EDTools" feature that allows users to filter, sort, and search for curriculum resources and other teaching materials.
Working through legal limitations
Teachers wanted to share digital classroom content and tools with their students, but the site faced Children's Online Privacy Protection Act (COPPA) compliance limitations around handling personal account information for users under age thirteen. We developed a custom share feature on the site to allow teachers to create a unique shareable link for their students. This "unlocks" content for 14 days, bypassing the need for students to create an account.
Not only did we solve these challenges above but we also increased the relevancy of NewseumED. In architecting a new brand experience through newseumed.org, we elevated the education division as a highly valuable, efficient, and trusted, educational resource. We are continuing our work to develop and implement a strategic product roadmap to enable NewseumED to become the go-to provider of tools and content on our First Amendment freedoms.
Before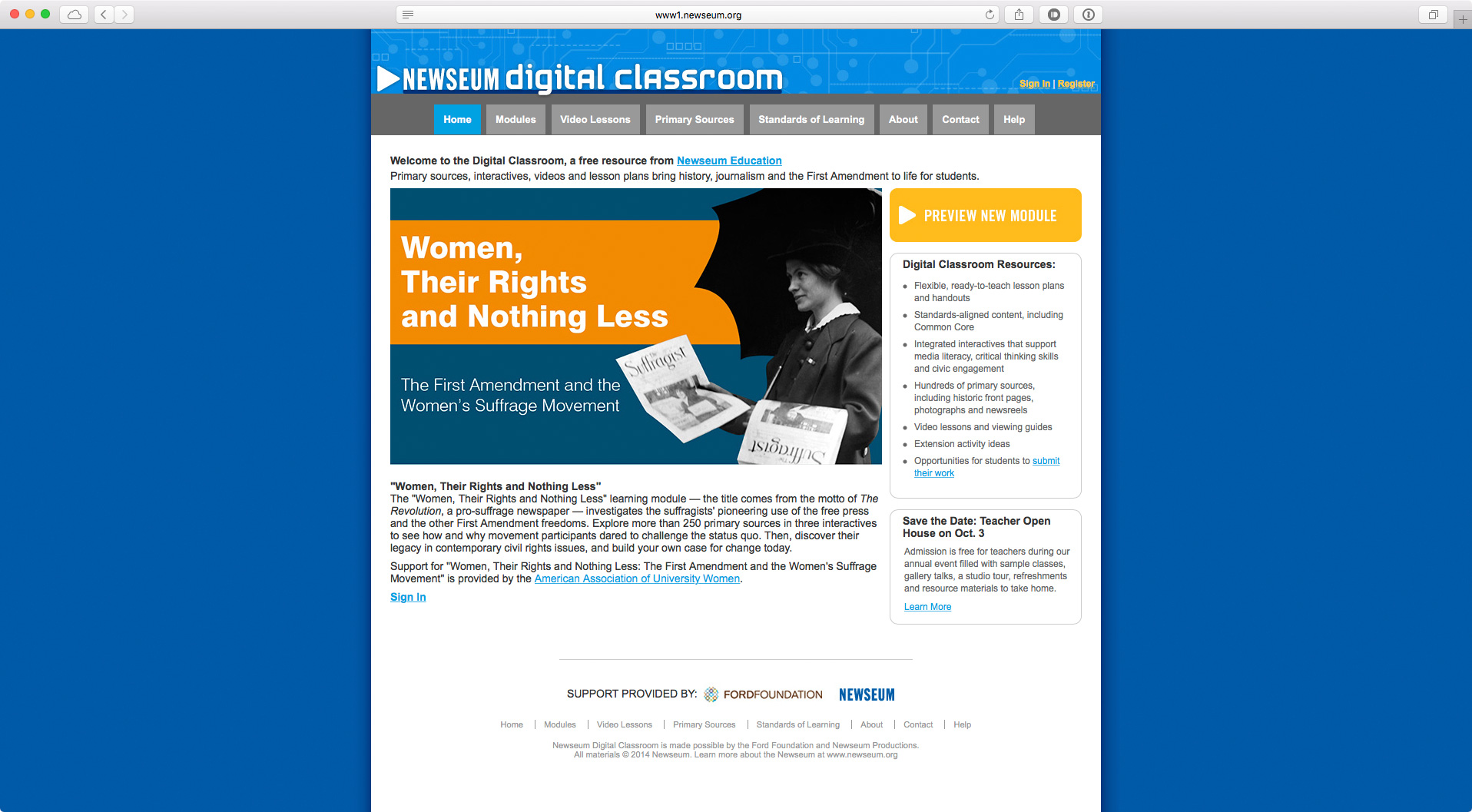 After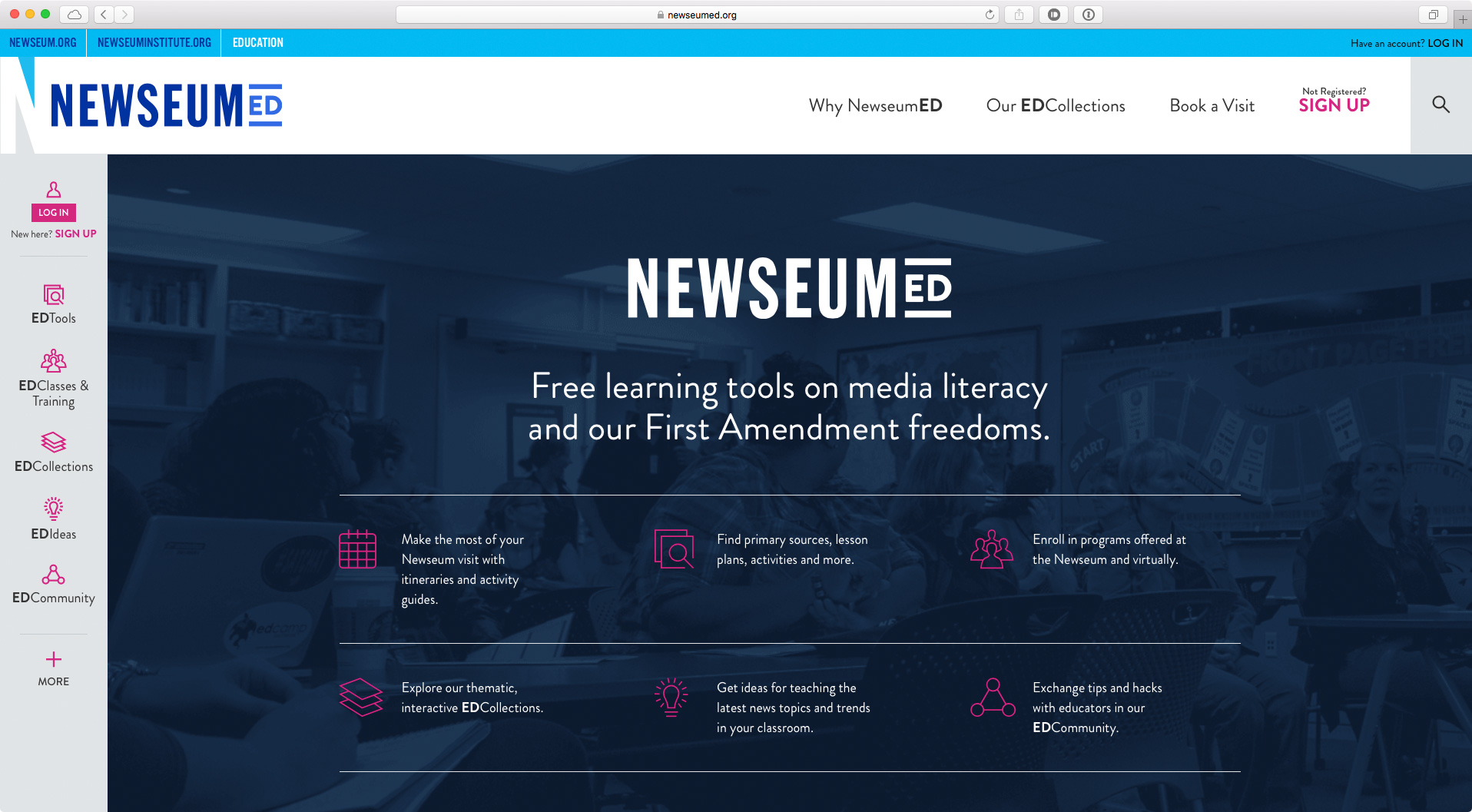 Slide across the image above to see the website before and after our redesign.
Before and after our redesign.